What happens, when the sun shines, the wind blows and my battery is full? In Germany the Grid provider doesn't pay a reasonable price for the electricity you put into the grid. It might vary around sometimes less than 7 Cent per Kilowatthour (kWh). Whereas you pay about 30 cents if you buy a kWh from the grid.

Do you want to lose the solar energy in times of overproduction?
Of course you don't wanna lose solar energy. Therefor the industry provides so called Energy Managers.
These electrical devices come mostly in combination with an app where you can monitor your energy production and your consumption.
You can charge your Electric Vehicle (EV) when the sun reaches out your demand.
And even if you don't work at home the energy management system can switch on the heat pump, the washer or the aircondition.
What do the Energymanagers cost?
Victron Energy Cerbo GX – Systemüberwachung: Amazon.de: Auto
Energy manager are brutally expensive because the developement and the know how needed is enormous.
At the end, the electrician and the parts themselves will cost over 1000,00 Euro.
Isn't there an easy low tech solution to use the surplus power?
Of course, back in the days the management was done by a schmitt trigger Relay.
Is the alternating current (AC) conversion a big loss?
All converters have a loss. The bigger the cooling rips or even ventilations are the more energy is inverted to heat. The industry claims an efficiency of 96 Percent.
But if we look at the system in a bigger scale, we will have the following losses.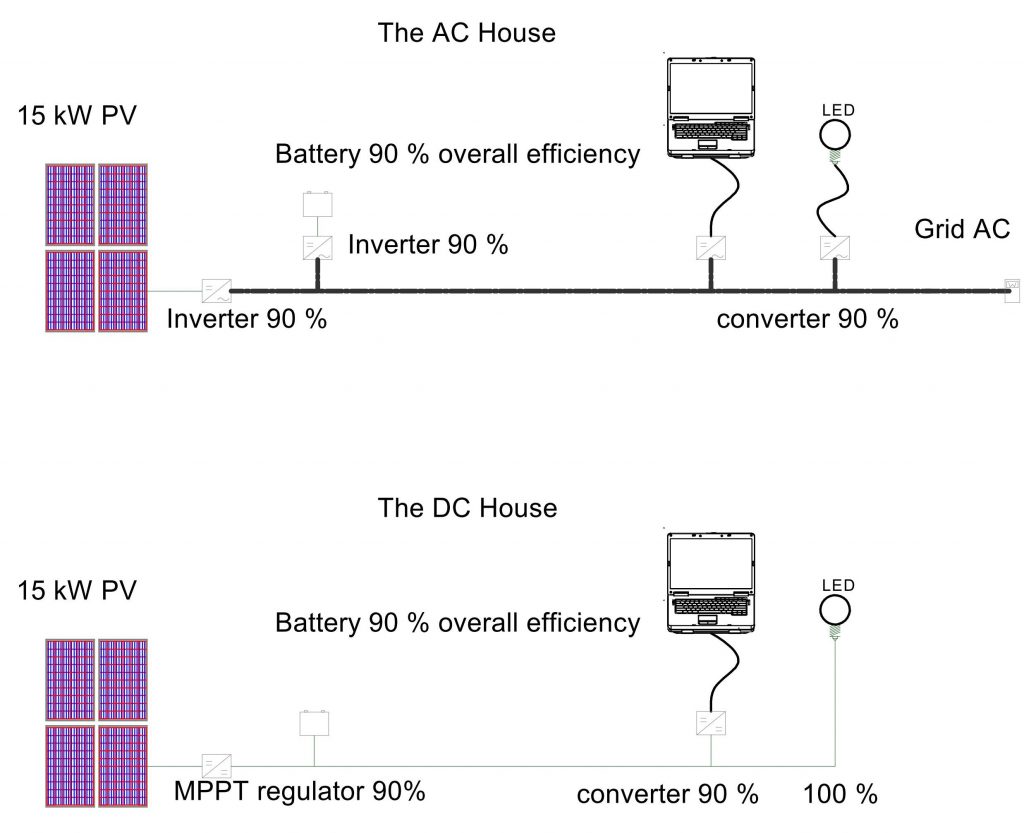 Whereas Inverters are very expensive, you get Buck Boost converters for very cheap.
Hyuduo DC5-30V bis 1,25-30V Buck Boost Converter Abwärtsmodul Automatikmodul Boost Einstellbare Stromversorgungsmodul Stabilisator Gleichrichter Spannungsregler: Amazon.de: Küche & Haushalt
First advise is:
use your direct current (DC) Gleichstrom
Your powerwall, Lithium-Ionen, Redox-Flow Battery saves DC.
Many appliances use DC.
All Audio Visual and Entertainment devices, such as Laptop, TV, Modem all cordless tools use DC-Current.
To charge your laptop or notebook directly you only need a Buck Boost converter
And most important, Hydrogen which is the long term storage in 2021 for households and domestic use.
All a Schmitt Trigger does, is switching on or off a relay depending in the battery voltage mesured.
Today this task is done by a tiny microchip.
Your Solar regulator will switch to float charge. Float Charge – the battery has completed charging and is in maintenance float charge.
This 15.8 x 13.8 x 2 cm small and 20 Gramm heavy device cost only 10 € and can do the same as a Energy Manager.
Conclusion
Of course this is a DIY approach. We would never suggest such a lumpy setup to our customers but it eventually shows how easy and cheap it could be to switch on loads when renewable energy is abandoned.
In order to reduce the carbon emissions maybe a grassroot movement is needed to provide the population the knowledge how to use renewable energies cheaply.